Anyone purchasing this kiln from us will have a 10% lifetime discount applied to their account for discountable fusing materials.
Personal discounts do not apply to kilns, if you have a discount please phone to order.
(T&C's apply, discount will not apply to any products that are advertised as non-discountable)
Delivery is free to UK Mainland addresses. Highlands and Islands may incur a delivery charge.
Hobbyfuser Specifications​:
Internal size - 420mm (wide) x 420mm (deep) x 200mm (High)
External Size - 750mm (wide) x 740mm (deep) x 460mm (High)
Weight - 90kg
Power - 2.5KW
Amps - 10
Voltage - 230v
Maximum Temperature - 960c
Controller included KCR32C
Quartz tube "infra-red" heating system.
Stainless Steel chamber and base.
Lid spring lift assist.
Recessed floor with retaining walls.
KCR32C digital Control with 32 pre-set and adjustable programs.
KCR32C internal over-fire safety circuit and dedicated safety relay to protect the kiln from over temperature faults and damage.
Fast react thermocouple.
Non ceramic fibre lid section.
Light weight refractory brick base.
Astonishing performance.
Fast cooling.
Vent hole in roof.
Optional stand and inner shelf kit.
FOUR years guarantee on ALL parts including the elements.
Designed and built by Kilncare in the United Kingdom.
The Hobbyfuser GEN4 is a serious glass kiln. The kiln is built for a long life span and comes with a 4 year guarantee on all parts INCLUDING the elements.
The Hobbyfuser GEN4 does not suffer with the usual lazy, slow behaviour associated with other large plug in kilns. Due to its high performance, infra-red quartz elements and well designed insulation, the Hobbyfuser GEN4 will make the all important 700c to 800c dash at a rate of nearly 450 degrees per hour even with the optional shelf installed. That is only 11 minutes and if a shelf is not used then that same dash can be made in an incredible 9 minutes. This makes the Hobbyfuser GEN4 almost infinitely controllable ensuring the glass doesn't get "over-worked" by it being in the heat longer than is required.
The changes on this incarnation of the Hobbyfuser are very much hidden to the naked eye.
The kiln is structurally identical to the Hobbyfuser 3 in every respect.
The big change is in the controller and the internal wiring. The GEN4 now uses the KCR32C which brings it inline with the rest of the "Fuser" family. This has required a full reworking of the kilns internal wiring and many components.
These changes mean that the GEN4 can now take full advantage of the Kilncare Gateway WIFI option which opens up a whole new way of kiln use.

Internet access to view real time status and access data.
The optional KCR32C WIFI allows the user to access the kiln in real time from anywhere with internet access via the Kilncare GATEway on their website. The benefits of this are obvious as there is no longer the need to travel to the studio or work place to see how the firing is proceeding or if indeed the firing is going as planned.
Also in the GATEway, which is unique to each user via password access, there is a firings library where past firings can be stored and named, a notes section and a log amongst other features.
Stainless Steel Lid Springs
Lifting the lid on the Hobbyfuser is aided by a pair of specially designed and built stainless steel lid springs which allow opening and closing of the Hobbyfusers lid to be a single finger operation.
This makes the kiln completely user friendly but also helps in prolonged life due to the reduction of shock through "heavy" opening and closing of the lid.
Hydraulically Compressed Fibre Lid
The Hobbyfuser is a very hardy kiln. The kiln lid is made from stainless steel and lined out with non-ceramic fibre, press cut and fitted with the use of a hydraulic compressing machine, in a quite unique way for kilns of this type. This method of insulation removes the danger of brick dust or particles dropping onto the glass, so making for a very clean firing environment. It also makes the Hobbyfuser 3 incredibly resistant to shock damage.
This lid construction enables the Hobbyfuser 3 to hold back the heat when needed but still release heat rapidly during the all important cooldown period.
In the centre of the lid is a vent hole which comes with a matching plug. This is positioned to the rear of the chamber to avoid particle contamination on the glass.
Quartz Element Heating System
The heating system is in the roof only and utilises the latest technology "infra-red" quartz tube heating elements. This method is extremely hard wearing and strong, yet in the event of an element failure the tubes are both easy and cheap to replace.
The elements are switched off when the lid is opened by an automatic safety switch.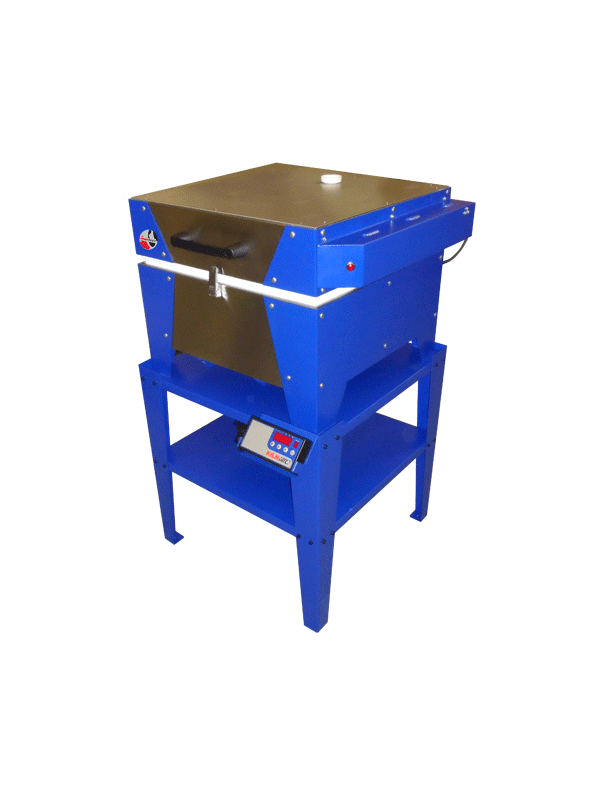 Optional Hobbyfuser Stand
The Hobbyfuser 3 stand has two shelves, one for the kiln to sit on and one for your own use. It raises the kiln by 650mm to a comfortable height.
It is made of steel and is powder coated in our Ultra-marine blue.
The stand is supplied ready flat pack and for assembly.
KCR32C Controller​

​32 programs - each with up to 32 segments.
Each segment is a controlled heating/cooling ramp soak.
Suitable for glass or ceramics use.
Soak times up to nearly 100 hours.
Ramp rates from 1 to 999°C/hour full.
Program Pause & Segment Advance facilities.
Keyboard lockable.
Delayed start facility - up to 4 days.
Power failure recovery.
Energy used display.
Event / Damper / Fan relay output.
Alarm relay with alarm buzzer.
Mains power switch.
Built in the United Kingdom.
The KCR32C is a multi-program controller designed for glass, ceramics & pottery use. It is targeted towards glass use with 32 programs each of up to 32 segments. Each segment is a controlled heating/cooling ramp followed by a soak. It is supplied pre-programmed with 9 typical glass programs and 9 typical ceramics programs (which can be over-written).

The slow rate capability of the KCR32C, down to 1c per hour, makes it the perfect controller for complicated glass cycles.
KCR32C WIFI Controller (Optional)​
The KCR32CWIFi is internally the same as the KCR32C but has the capability to be accessed and controlled remotely from your mobile device.
This is one of the most important advances in Kilncare kilns for many years.
Using Kilncares GATEway access site you can view how your kiln is running in real time. Stop the firing or adjust programs all without even being in the same country let alone the same room.
The KCR32CWIFi is also fitted with a USB port that allows programs to be entered that way direct from PC if required and also allows us to apply updates and run diagnostics without travelling to your kiln.
Please note......if you opt for standard delivery, this is via independent transport or courier. The obligation of the delivery company is to get the kiln safely to your address and to deliver to ground level.
However, you will need to make your own arrangements to get the kiln to your final site position. Delivery drivers will not assist in getting the kilns through narrow gates e.t.c.
The independent drivers are not and cannot be contracted to help site the kiln in your final position..

The kiln will arrive boxed, on a pallet. The pallet dimensions are 110cm x 94cm.
The Hobbyfuser size is 75cm x 74cm x 48cm tall and it weighs 64kg.
Delivery is free to UK Mainland addresses. Highlands and Islands may incur a delivery charge.
For any enquires about this kiln please phone 01245 329830.
Non-discountable product, customer discounts do not apply to this product.